You can save up to 75% on Toners & Ink Cartridges by purchasing from Toner Direct.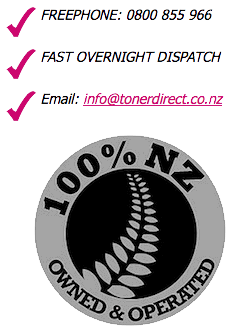 Apply for your Business Account here. New Accounts Opened within 2 Hours.

Since 2008 Toner Direct has supplied over 25000 New Zealand customers. A fast growing & now well recognized company in the Toner & Ink Supply marketplace.
Generally delivery is as fast as Next Day if orders are placed before mid-day. Delivery is FAST with Local Couriers. All items carry delivery Insurance that is passed onto our customers via the Courier Companies that we use on a daily basis.
We supply top quality Genuine Brand Toner Cartridges at possibly New Zealand's lowest prices. All products carry a 100% Replacement Guarantee including our full range of Genuine Brand Ink Cartridges. We also cover all Brands & Supply both a full range of Premium Compatible Toner cartridges & Premium Compatible Ink Cartridges to save you money. www.tonerdirect.co.nz is an established well known company that you can trust to deliver the goods.
So for all you Toner cartridges, Printer Ink & Drum Replacements contact www.tonerdirect.co.nz on 0800 855 966 or email us on This email address is being protected from spambots. You need JavaScript enabled to view it.
Buy Inkjet Cartridges At Wholesale Prices From Toner Direct